The music industry demands to see top notch websites before they will even talk to you. Having a stellar website created by Naumann Creative will showcase your videos, music and information to agents, vendors, clubs and festivals that will get their taste buds drooling and your phone will be ringing for more bookings to fill up your calendar.
Having a stellar website created by Naumann Creative will show everyone that you not only mean business but you are the real deal. A bad ass site shows your value and will get you better and higher paying gigs.
Having a stellar website will build your audience and following by providing a Tour Date Calendar that your fans can easily follow and get more information. Contact Fields that will allow new users to sign up to an email list and contact you. A cool Photo Gallery to check out. The site will also sync up to your Facebook and Instagram accounts and appear on your website to build your social media network and fan base.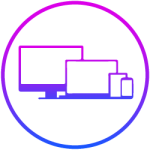 A Stellar Site for Entertainers, Created by an Entertainer
.
With over 20 years in the music and entertainment business, key areas and sections were strategically designed to target what agents, vendors and your fans specifically want to see on your website. The website will be fully responsive meaning that it will adapt to be viewed from your desktop, tablet or smartphone.
Everything You Need in One Package
!
Ask about our Stellar Package to get your domain name set up, website designed and created, plus one year of hosting. Let us do all of the work, you just perform and count your money!
Video of the Features that are Included
!
More About Jean, Digital Jedi Knight and Lead Singer of Kashmir.
Jean Violet is not only the founder and lead singer of the very successful Led Zeppelin tribute band Kashmir The Live Led Zeppelin Show, but he also balances as a professional Creative Director in the field of Visual and Digital Design. Jean knows what the agents, venues and music industry demand to see on a band's website. Since Jean has launched his latest website for Kashmir, their gigs have more than doubled as well as their revenue. Take a look for yourself at Kashmir's website to see all of the elements that Jean can create to provide a successful website that will launch your band into a higher atmosphere.
VISIT KASHMIR'S SITE
What Are You Waiting For
?
Let's talk more about how a stellar website can GET YOU MORE SHOWS, MORE MONEY, and MORE FANS!
I WANT TO KNOW MORE!